CEBN Meeting in Washington
October 4, 2017

– 

October 5, 2017

CEBN Ambassadors in Our Nation's Capital
FOURTEEN MEMBERS RECENTLY VISITED WASHINGTON FOR STRATEGIC PLANNING DISCUSSIONS AND CONGRESSIONAL MEETINGS
November 7, 2017 │ Andy Barnes
The Clean Energy Business Network (CEBN) welcomed 14 members to Washington on October 4-5 for the network's first in-person membership meeting since transitioning to its new home at the Business Council for Sustainable Energy (BCSE).  The CEBN members in attendance hailed from diverse geographies and technologies and represented varied histories of engagement with the organization.  During the event, these members contributed invaluable ideas for the future priorities of the CEBN, learned more about our new parent organization, and briefed Congressional offices on their technologies and projects.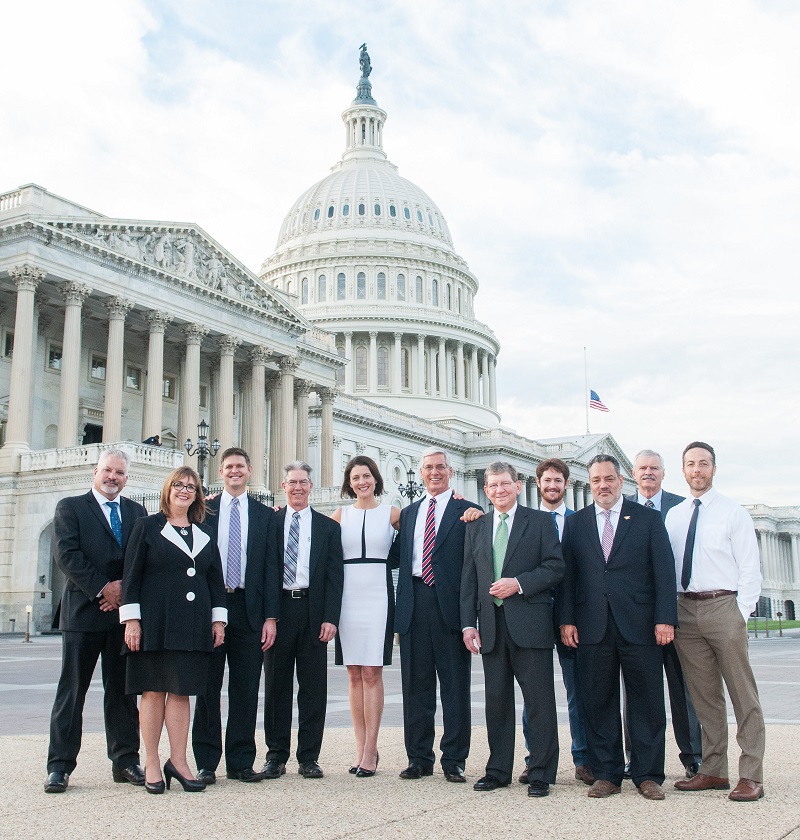 CEBN members and staff gather outside the steps of the Capitol Building.  Left to right: John Fox, Susan Sprentall, Nolan Hill, Michael Sams (AMSEnergy), Lynn Abramson, Loy Sneary, John Atkins, Andy Barnes, James Jackson, Al Frasz, Jeff Dixon
The event kicked off with a half-day session continuing the ongoing dialogue on the CEBN's future policy priorities and member services.  Four members of BCSE's Board of Directors also participated in this conversation, including Chairman Mark Wagner of Johnson Controls and BCSE President Lisa Jacobson.
The following day, these CEBN members attended the BCSE's annual membership meeting, to learn more about goals and activities and hear insights from guest panelists. Distinguished speakers included Senator Lisa Murkowski (R-Alaska), Chairman of the Senate Energy and Natural Resources Committee; Representative Ryan Costello (R-PA-8), member of the House Energy and Commerce Committee and Climate Solutions Caucus; and Miles Keogh, Executive Director of the National Association of Clean Air Agencies.
After the symposium concluded, CEBN members met with the House Energy and Commerce and Senate Energy and Natural Resources Committees for conversations on energy, tax, and appropriations developments. In addition, members met individually with their Congressional offices to discuss their work and policy priorities.  The CEBN members capped off the event at a reception celebrating BCSE's 25 years of work in energy efficiency, natural gas, and renewable energy policy.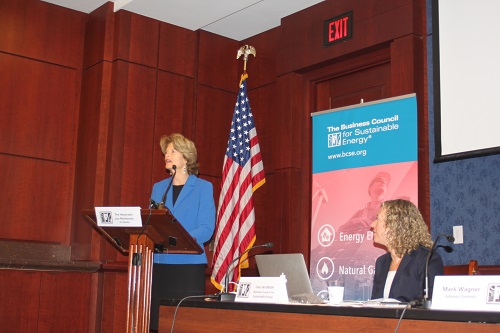 Senator Lisa Murkowski (R-Alaska) addresses BCSE and CEBN members in the Capitol as BCSE President Lisa Jacobson listens.
The October meeting was a fantastic kickoff celebration of the new partnership between the CEBN and BCSE, and will hopefully be the start of a fruitful collaboration between the two organizations for many years.  CEBN staff look forward to hosting more members at events in Washington and around the nation in the coming months.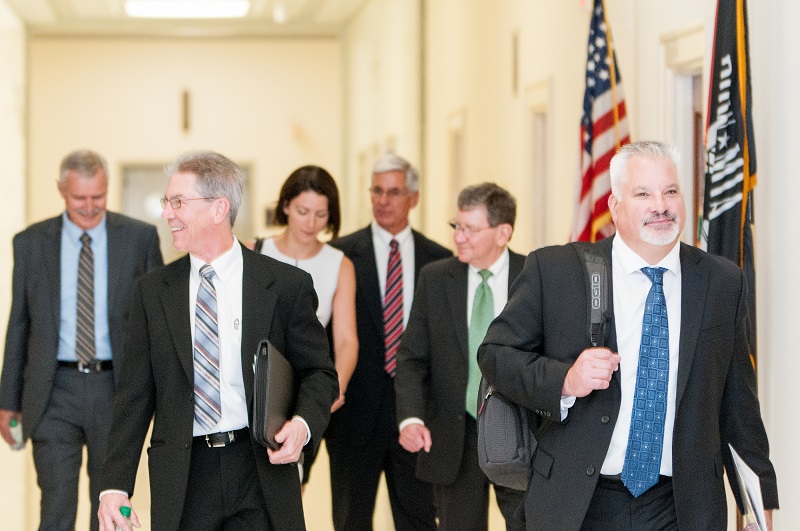 CEBN members walk between meetings on Capitol Hill. Left to right: Al Frasz, Michael Sams (AMSEnergy), Lynn Abramson, Loy Sneary, John Atkins, John Fox